Hotline Nos. Awards: +91 8595350504, Conference: +91 8595350505, Exhibition: +91 9311231351

Indian Education Show 2015
Conference | Awards | Exhibition
July 22 - 23, 2015,
J.W.Marriot, Hotel
New Delhi Aerocity
5th Annual Convention for
Entrepreneurs & Start-ups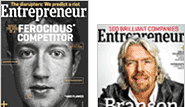 Gaurav Marya
Chairman, Franchise India
THE LOGIC OF BUSINESS ENTERPRISE IS GROWTH
In my career as an entrepreneur spanning over 20 years, I have interacted with thousand of entrepreneurs and feel there are some four kinds of entrepreneurship capabilities. These entrepreneurs have a varying business appetite and operate either in a local economy; a national economy; in the global trading economy or they play in the world market with capital back up. Ultimately, the entrepreneurs that are able to move up the ladder and transgress from local opportunities to national and global playing field ? are the ones best positioned for big success. Today, when it is easier than it ever has been to start a business and quicker than it has ever been to grow; when markets are no longer local and exporting is not a specialist occupation there is a bigger need to empower the entrepreneurs, who are the powerful mind behind the business and make the world spin with innovation and subsequent growth.

Keeping this view on India, I am glad to share that Franchise India Media has tied up with US-based Entrepreneur Media Inc to bring their more than 35 years of global entrepreneurial wisdom to Indian entrepreneurs by delivering distinctive Ideas, Opportunities, Practices and Processes on every road taken by the independent thinkers, builders and leaders driving economies across the world. The formal launch of Entrepreneur India Media will happen at Entrepreneur India 2015, which is India's Biggest Entrepreneurship conglomeration on 22nd & 23rd July, 2015.

Back in its 5th year, Entrepreneur India 2015 will once again bring together the best league of entrepreneurs from Indian and global markets to hear them riff and learn from each other's experiences, which has been the foundation of this platform.

The conference themes straight from the pages of Entrepreneurs journey for excellence as the 'Who's Who of the Business' world will Inspire you as an individual to Innovate and Ideate on how to build a truly global enterprise. Supporting this vision will be the ecosystem, helping to incubate and invest with the most promising business leaders heading organizations of tomorrow. The Pitch Room will further encase the capital needs of entrepreneurs looking to raise growth funding to quickly scale-up their business operations.

I look forward to welcoming you to the Entrepreneur India 2015.