Hotline Nos. Awards: +91 8595350504, Conference: +91 8595350505, Exhibition: +91 9311231351

Indian Education Show 2015
Conference | Awards | Exhibition
July 22 - 23, 2015,
J.W.Marriot, Hotel
New Delhi Aerocity
5th Annual Convention for
Entrepreneurs & Start-ups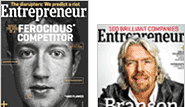 Mr. Navneet Singh
Co-Founder, Peppertap
"Hyperlocal' is perhaps one of the very few words that have managed to rattle the fast-scaling eCommerce giants in the last few years. Hyperlocal entrepreneurs understood that physical retailers situated in the same area as consumers could offer something that large horizontal players couldn't."

Mr. Navneet Singh is the Co-Founder of PepperTap, an on-demand grocery delivery service platform in the country. With an expansive experience of over a decade across financial services, transportation & logistics industries; he epitomizes passion, professionalism and entrepreneurship.Prior to venturing into PepperTap, he established India's premier e-commerce focused reverse logistics company NuvoEx, which is spread in over 12 Indian cities and operates with employee strength of over 800. In his earlier avatar, Navneet held different positions with companies like Delhivery, World Bank (IFC), ExxonMobil etc.

An alumnus of IIM-Ahmedabad, he was acknowledged as the President's Gold Medal Winner at T.S. Chanakya, India's premium Merchant Navy Training Institute. He aims to widen the company's reach to the top 50 cities of India, making the lives of millions of people simpler. A movie buff and gadget-freak, Navneet likes to be with his kid and read tech blogs in his free time.