Hotline Nos. Awards: +91 8595350504, Conference: +91 8595350505, Exhibition: +91 9311231351

Indian Education Show 2015
Conference | Awards | Exhibition
July 22 - 23, 2015,
J.W.Marriot, Hotel
New Delhi Aerocity
5th Annual Convention for
Entrepreneurs & Start-ups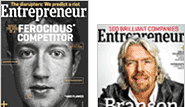 Mr. Ravi Virmani
Co-Founder, CrediHealth
"Young techies are creating outstanding product play every day in our country. I think we have world-class talent and hope that this ecosystem and infrastructure encourages the trend to grow continuously."

A successful business leader, Ravi Virmani had co-founded Noble House in his New Delhi garage, which was acquired by Hewitt with Virmani at the helm of Hewitt Associates India as its Co-founding Managing Director.

Ravi is an alumnus of XLRI Jamshedpur. After successful stints as MD at Hewitt South Asia and CEO Aventus Consulting (both in Singapore), he returned to India as COO of Max Healthcare immediately before founding Credihealth.

Credihealth is an information portal for making informed decisions for hospitalisation. Credihealth has the most exhaustive and credible information, articles and interviews on all hospitalisation needs of the family. Emerging as a market leader across the country, Credihealth is the one stop shop bringing transparency and reliability and assists you in connecting with renowned doctors and hospitals.