Hotline Nos. Awards: +91 8595350504, Conference: +91 8595350505, Exhibition: +91 9311231351

Indian Education Show 2015
Conference | Awards | Exhibition
July 22 - 23, 2015,
J.W.Marriot, Hotel
New Delhi Aerocity
5th Annual Convention for
Entrepreneurs & Start-ups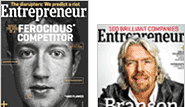 Testimonials
Padmaja Ruparel, President, Indian Angel Network.
"I am very happy to see this conclave Entrepreneur India. This gives a very good opportunity for the younger generation to be a part of entrepreneurship. Holding this kind of conferences for India, which will not only help bring entrepreneurs for the domestic market but will at the same time help international markets. This will grow India's revenue, India's image and India's business worldwide."
Sanjay Gaur, Owner, SG Containers
"Entrepreneur India Congress is one of its kind excellent platform for entrepreneurs coming from different walks of the life."
Sakshi Shail, Director, PMP
"There is so much info at Entrepreneur India Congress that you can't find on Google. You gotta be here."
Rohit Malik, Solution Architect - Big Data, TCS
"The thought process behind start-ups and funding sessions were very beautifully articulated."
Ashish Seth, Manager, Frige Care
"The kind of motivation which speakers like to give to young entrepreneurs & women entrepreneurs is simply comendable."
Vikkie Anand, MD, Vikkies Touchngnglow
"Entrepreneur India is trying to educate entrepreneurs to grab the right opportunities & best suited value propositions for individual businesses."
Sooraj Rajendran, Business Analyst, James Blake Internet Services
"Very lively and interesting, covered all practical legal aspects. An eye opener."
Anila Rampuria, Consultant-Consultins One
"A session should leave an impact to be fruitful and it did."
Adisht Bindle, Director-Avis Hometex
"I was looking for funding schemes for setting up a new manufacturing setup and it gave me an opportunity."
Balbir Singh Chawla, Managing Director, B&B Growing Infrastructure
"Really inspiring, I liked Harish Bijoor, lively way of getting his point, thought and us."
Manish Pande, President, SBB Infrabuild Pvt Ltd/ SRAM Shakti Foundation
"It was to the subject matter, all topics are effectively covered as this has been a neglected area by most entrepreneurs."
Shalika Bhalla, Senior Associate, Obhan & Associates
"An interactive session that kept all interested and attentive and had good learning points as well."