Hotline Nos. Awards: +91 8595350504, Conference: +91 8595350505, Exhibition: +91 9311231351

Indian Education Show 2015
Conference | Awards | Exhibition
July 22 - 23, 2015,
J.W.Marriot, Hotel
New Delhi Aerocity
5th Annual Convention for
Entrepreneurs & Start-ups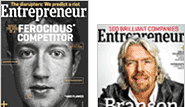 Mr. Vijay Ghadge
Chief Operating Officer,
Go Javas
"You are never there" as a start up; complacence is your biggest enemy. Being change ready while you are still building the organization and organization structure makes it challenging and fun."

After Mr. Ghadge's Sloan Fellowship at London Business School in 2011, he was an intra-preneur at Jabong, India's biggest online fashion store, helping it create wealth for all stake holders.

Mr. Ghadge has been instrumental in conceptualizing and launching one of the best fulfillment services brands in India "gojavas" along with mentoring the returns and refunds team. He is a senior professional with extensive crossfunctional expertise in international business, new market development, supply chain and business process re-engineering.

Mr. Ghadge successfully scaled up supply chain capability for a business which grew from $50 million to $160 million in 4 years, including integration of processes for a $30 million acquisition. He also led the conceptualization & execution of fulfillment strategy for a multinational company with operations in 100+ countries and a turnover of $1.6 billion.