2003

Inception of Startup Summit

3200

+

Delegates Till Date
00

days

00

hours

00

minutes

00

seconds
It's an opportunity for you to connect with the best and brightest minds to explore how to fuel their business growth. The conference brings together the speakers that are the best breed of entrepreneurs, innovators, venture capitalists, business model creators, consultants, policy-makers, academicians, support groups, business coaches and business practitioners to present and discuss innovation and success under the aegis of entrepreneurship for Small and Medium Businesses as they recount their learning and experiences, share their insights and practices that have enriched their ventures.
Great Speakers

Listen to the leading thoughtleaders from around the Country.

Networking

Network with the thought leaders, Entrepreneurs, Leading Media, Investors, Startups, business owners and more
Interactive Panel Discussions

Don't just listen to them, probe them to know the right strategies that will help your business

Meet New Businesses

Meet New business from all sectors starting from Retail, Fashion, F&B, Education, Technology to Healthcare and more. They are looking for franchisees or investors
Knowledge 2023
The Start-up Summit, 2023 is a single day platform where 100+ business experts from India and abroad will share New Ideas, trends and business opportunities to enrich the business community. Building an Entrepreneurial Ecosystem for starting up, building a sustainable business, Youth Empowerment and New Age Business Ideas to grow.
10:10 am- 10:35 am

INAUGURAL SESSION

Session 1: GOVERNMENT'S IMMINENT ROLE IN NURTURING ENTREPRENEURS, START-UPS, RETAIL & MSME

10:35 am – 11:00 am

Session I: How Should brand innovate to reach their customers anywhere, everywhere?

11:00 am – 11:25 am

SESSION -2: From a Business to a Brand

11:25 am - 12:00 pm

SESSION 3: Panel Discussion FROM A BUSINESS TO A BRAND

How to humanize your brand —from consistent customer experience, to channel journey mapping, to customer-centric leadership
How to plan systematic development of the brand in alignment with a business strategy
12:00 pm - 12:45 pm

SESSION-4 : Opportunity INDIA: MOBILITY

12:45 pm – 01:15 pm

Session 5 : Keynote : Building Resilience for Franchise Brands

02:15 pm – 03:00 pm

SESSION-6 : Opportunity INDIA: EDUCATION & EDTECH

Making Education available to the Next Billion
The School Story for growth in early and K12 education

03:00 pm – 03:15 pm

SESSION-7 : Keynote: Empowering your Brand Building a community: Your Partners and teams will predict your Profitability

03:15 pm - 04:00 pm

Session – 8 : Panel Discussion: Empowering your Brand Building a community: Your Partners and teams will predict your Profitability

How to Attract Multi-Unit Franchisees to your Brand?
Factoring natural evolution of a brand from "new" development to "resale" development.
14:30 - 15:15

SESSION V: Beauty Retail -Changing Dynamics

How Beauty Brands are understanding consumer needs differently
How Salons are rethinking business in New Normal
How brands are successfully building a Service and Retail business

Read More

15:15 - 16:00

SESSION VI: FROM DIGITAL FIRST TO PHYSICAL WORLD

What are the real reasons to go offline
What are the approaches that generate more wide-ranging, innovative, and integrated solutions
How to be more immersive, more seamless, and give more personal experience in the Digital World

16:00 - 16:45

SESSION VII: Raising Capital for Consumer Brands

What is driving the shift in investment behaviour of VCs?
Why investors and VCs are keen on funding more into the D2C sector?
Potential ROI for investors from consumer brands

Read More
( Here ) An
Entrepreneur Is Born
Hear How the Digital and Physical Worlds in Retail and Product Lines will combine
Opportunities to Meet potential Investors, Incbators/Accelerators and Bankers to Raise Capital
Cut out strategic partnerships through Franchising, Licensing,
Distributorship & JV's.
Discover new Business Innovations and Industries and Brands to Invest in
Evaluate growth potential of new Business Ideas.
To enable ME's to raise capital for their Business Growth.
Opportunity identification and qualification process in buying a Franchise
Building operational efficiency and speed of Business for Scaling up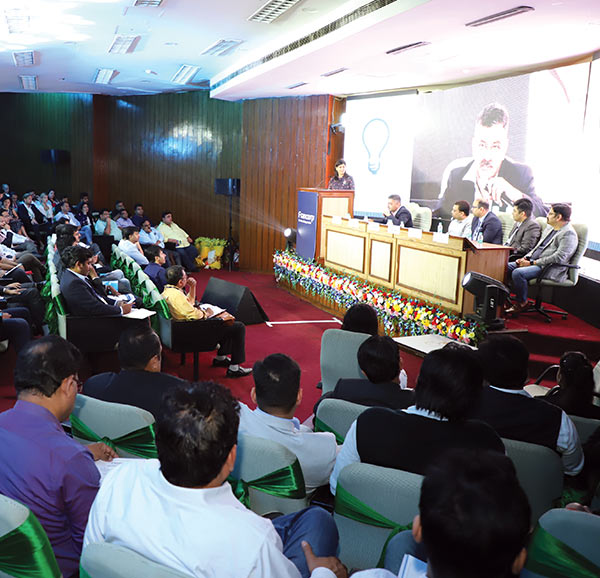 Key
Take aways
How to recognize a business opportunity or identify a feasible business idea.
Creative techniques to extend expand and further a business idea.
How to create an actionable business plan.
Key skill sets for early-stage entrepreneurship.
How to structure terms and conditions between entrepreneurs and external investors.
Basic working models for customer, market and competitor analysis.
How to establish formats of decision-making, execution and action oriented management with process that encourages entrepreneurship and innovation.
Recruitment, team building and management processes suitable for new ventures.
What it takes to have a successful "brand" and how to create and grow your "brand" for potential opportunities.
Scaling up possibilities in start-up companies.
Developing your business talents, capabilities, leadership, and skills as a business owner.
Rub shoulders with industry leaders, VCs and entrepreneurs
Discover the business-critical innovations that are shaping and scaling startups.
Who Should
Attend?
Prospective, emerging and existing businesses
Enterprises looking at funding
Businesses looking at JVs, alliances and tie-ups
Enterprise Professionals
Business Consultants and Analysts
Product led enterprises
Service Led enterprises
Chain store operators
Policy makers and Business Associations
Real estate business owners
Retail and B-Schools students
"Its been sensational to meet the other delegates" Surya Pramud
Owner, TechOuts
"It was great to be able to speak with people who are delving into similar challenges in their own companies " Sanjay Singh
Owner, Madem power
"Overall the StartupSummit was an excellent investment of my time" K devendra
MD & Co -Founder
Adelfe Solution