2003

Inception of Startup Summit

3200

+

Delegates Till Date
00

days

00

hours

00

minutes

00

seconds
It's an opportunity for you to connect with the best and brightest minds to explore how to fuel their business growth. The conference brings together the speakers that are the best breed of entrepreneurs, innovators, venture capitalists, business model creators, consultants, policy-makers, academicians, support groups, business coaches and business practitioners to present and discuss innovation and success under the aegis of entrepreneurship for Small and Medium Businesses as they recount their learning and experiences, share their insights and practices that have enriched their ventures.
Great Speakers

Listen to the leading thoughtleaders from around the Country and Hyderabad.

Networking

Network with the thought leaders, Entrepreneurs, Leading Media, Investors, Startups, business owners and more
Interactive Panel Discussions

Don't just listen to them, probe them to know the right strategies that will help your business

Meet New Businesses

Meet New business from all sectors starting from Retail, Fashion, F&B, Education, Technology to Healthcare and more. They are looking for franchisees or investors
Vikram Gupta

Founder & Managing Partner , IvyCap Ventures Advisors Private Limited

Subodh Mehta

Sr Vice President, B2C Business , Godrej Interio

Monica Chaturvedi

Chairperson ,Ficci FLO Mumbai

Dhaval Shah

Co-Founder , PharmEazy

Aloke Banerjee

CEO , Bombay Dyeing

Spoorthy Shetty

CEO , Bblunt

Samir Dahotre

Founder & CEO of Perspective Startup Incubators (PSI)

Nidhi Saraf

Founder & CEO , Key Venture

Roben Dass

Chairman & MD, Koochie Global

Viral Jani

Vice President, Times Bridge

Varun Varma

Principal, Lightbox Ventures

Harsh Shah

Co-Founder, Fynd

Hitesh Ahuja

CEO & Founder , YumLane

Rahul Puri

Executive Director, Mukta Arts and Head of Academics, Whistling Woods International

Karan Tanna

Founder & CEO, Yellow Tie Hospitality

Nandini Mansinghka

CEO & MD, Mumbai Angels

Karan Chowdhary

Co-Founder, Fit & Glow Healthcare Pvt Ltd

Arun Nayyar

CEO, NeoGrowth

Vipul Patel

Serial Entrepreneur & Mentor

Karishma Kirpalani

Associate, Artha Ventures

Vishal Kamat

CEO, Kamat Group of Hotels

Mehernosh Tata

Head of Edelweiss SME Lending

Rajesh Sehgal

Founder and Managing Partner, Equanimity Investments

Niki Shah

Partner, S N & Co

Gauri Devidayal

Director, Food Matters India Pvt Ltd

Hamza Patel

Managing Director, AP Group

Manish Lunia

Co-Founder, FlexiLoans.com

Farah Nathani

Co-Founder, The Mumum Co

Shrey Aggarwal

Founder, The Belgian Waffle Co

Dinesh Rohira

Founder & CEO of 5nance.com

Pushkar Mukewar

Co-Founder & Co-CEO, Drip Capital

Imran Jafar

Managing Partner, Gaja Capital

Gurmeet Arora

Founder & CEO, Flax Healthy Living

Satish Negi

Founder & Director, Pipaltree Beverages

Preeti Sharma

Executive Director, Pragati Software Pvt Ltd

Ajit Deshmukh

MD & Head of Investment Banking Equirus Capital

Amit Patni

Director, Campden Family Connect

Shalini Jitendra Thackeray

Director, Cinemantra Productions

Vikas Sarda

CFO, Unitus Capital

Annu Talreja

Founder & CEO, OxfordCaps

Arunabh Sinha

Founder, UClean

Geetansh Bamania

Founder, Rentomojo

Manish Naidu

Founder & CEO, Brainwonders

Yash Kotak

Co-Founder & Director, BOHECO

Shriti Chhajed

Founder, BookEventZ.com
The Franchise Start up Summit 2019 is a two day platform where 100+ business experts from India and abroad will share New Ideas, trends and business opportunities to enrich the business community. Building an Entrepreneurial Ecosystem for starting up, building a sustainable business, Youth Empowerment and New Age Business Ideas to grow.
10:15 AM - 11:00 AM

Session I: Government's Imminent Rolein Nurturing State Entrepreneurship

How is the State bolstering its Economic Index by Building an agile Entrepreneurship Ecosystem
How Industry &growth businesses can support each other
Fostering competitive laws & regulations to build future companies

Read More

11:00 AM - 11:20 PM

Session II: Keynote Session:India: Emerging as the 3rd Largest Consumer Market in the World

Opportunities in newer categories like sports & fitness, education, food & beverage
Premiumization/innovation in existing consumer categories
Micro-segmentation and targeted marketing as a competitive advantage

Read More

11:20 PM - 12:15 PM

SESSION III: How Businesses are working to Create Future Conglomerates

New retail formats that are melding the best of both the in-shop and online experiences.
Built for size, speed, cost and scalability
Blurring of the Line Between Consumer and Advertiser/Influencer/KOL

Read More
10:30 AM - 11:30 AM

Session I: Taking an Idea From Seed Stage to Series A

How to get investment in early days
Managing investment in resources, team-building and R&D
Scaling the company step-by-step

Read More

11:30 AM - 12:15 PM

Session II: The VC Logic: What Investors Want

Funding 101: Navigating the VC Landscape in Consumer business
What Investors Really Want to See & Hear
Investing in the Next-Generation of Businesses: How & What

Read More

12:15 PM - 12:30 PM

SESSION III: Legal Know-How on Building Term sheets

Read More
12:30 AM - 13:00 PM

SESSION IV: How to Grow & Transition Your Family Business

Digitizing the Business without Dealigning the Value system
Closing the Gap: the generation gap, the experience gap, and the communications gap
Balancing it out - Too Much to fast Vs. Guarded change

Read More

13:00 PM - 13:15 PM

SESSION V: Keynote: Corporate Connect: Entrepreneurship Match

People, Capital, & Technology: How corporates scale innovations, expand

Read More
( Here )
An
Entrepreneur Is Born
Hear How the Digital and Physical Worlds in Retail and Product Lines will combine
Opportunities to Meet potential Investors, Incbators/Accelerators and Bankers to Raise Capital
Cut out strategic partnerships through Franchising, Licensing,
Distributorship & JV's.
Discover new Business Innovations and Industries and Brands to Invest in
Evaluate growth potential of new Business Ideas.
To enable ME's to raise capital for their Business Growth.
Opportunity identification and qualification process in buying a Franchise
Building operational efficiency and speed of Business for Scaling up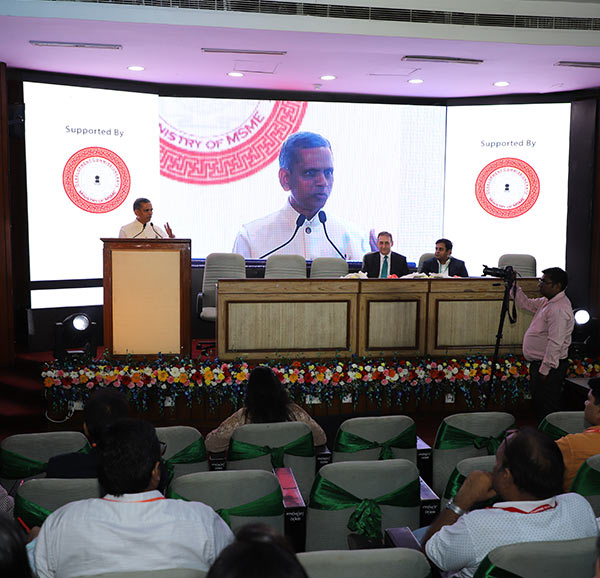 How to recognize a business opportunity or identify a feasible business idea.
Creative techniques to extend expand and further a business idea.
How to create an actionable business plan.
Key skill sets for early-stage entrepreneurship.
How to structure terms and conditions between entrepreneurs and external investors.
Basic working models for customer, market and competitor analysis.
How to establish formats of decision-making, execution and actionoriented management with process that encourages entrepreneurship and innovation.
Recruitment, team building and management processes suitable for new ventures.
What it takes to have a successful "brand" and how to create and grow your "brand" for potential opportunities.
Scaling up possibilities in start-up companies.
Developing your business talents, capabilities, leadership, and skills as a business owner.
Rub shoulders with industry leaders, VCs and entrepreneurs
Discover the business-critical innovations that are shaping and scaling startups.
Prospective, emerging and existing businesses
Enterprises looking at funding
Businesses looking at JVs, alliances and tie-ups
Enterprise Professionals
Business Consultants and Analysts
Product led enterprises
Service Led enterprises
Chain store operators
Policy makers and Business Associations
Real estate business owners
Retail and B-Schools students
"Its been sensational to meet the other delegates" Surya Pramud
Owner, TechOuts
"It was great to be able to speak with people who are delving into similar challenges in their own companies " Sanjay Singh
Owner, Madem power
"Overall the StartupSummit was an excellent investment of my time" K devendra
MD & Co -Founder
Adelfe Solution
Yes, I want event updates and special offers!
Organised By
Knowledge Partner
Official Portal
International Franchise Partner
Supporting Angel Network
Gift Partner
Angels Partner
Outdoor Partner
Radio Partner
Bag & Lanyard Sponsor