Hotline Nos. Awards: +91 8595350504, Conference: +91 8595350505, Exhibition: +91 9311231351

Indian Education Show 2015
Conference | Awards | Exhibition
July 22 - 23, 2015,
J.W.Marriot, Hotel
New Delhi Aerocity
5th Annual Convention for
Entrepreneurs & Start-ups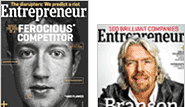 Mr. Ramesh Dharmaji
Chief General Manager,
SIDBI
"MSME ecosystem can be boosted by inculcating a spirit of enterprise in school curriculum, build support system for budding entrepreneurs and finally facilitate ease of doing business for MSMEs."

Mr. Ramesh Dharmaji has over 30 years of experience in promotion, development and financing of MSMEs in the country. Currently, he is the Chief General Manager based in New Delhi looking after international consultancy, project management and development initiatives of the bank. He was instrumental in setting up SIDBI MSME international training institute. During his career, he has developed in-depth knowledge about the working of MSMEs & Cluster dynamics. He has headed different verticals and branches of the bank across the country. He has served on board of State Financial Corporations, private companies, etc. He has lots of interests and passion in mentoring MSMEs.