Hotline Nos. Awards: +91 8595350504, Conference: +91 8595350505, Exhibition: +91 9311231351

Indian Education Show 2015
Conference | Awards | Exhibition
July 22 - 23, 2015,
J.W.Marriot, Hotel
New Delhi Aerocity
5th Annual Convention for
Entrepreneurs & Start-ups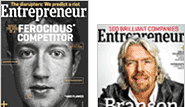 Ms. Ritu Verma
Co-founder & Managing Partner,Ankur Capital
"Impact investing is growing rapidly in India. There are exciting ideas out there and there is a growing interest from capital in India in this area. In the coming years we should see many businesses that will enable Indians to participate and benefit from the economy more effectively."

Ms. Ritu Verma has over a decade of investing and operational experience across various sectors. She is the Co-founder and Managing Partner at Ankur Capital, a seed fund focused on impact investing in agriculture, health and education. The fund has invested in 5 start-ups that directly impact bottom of the pyramid communities through technology innovations in agriculture, health and skilling. Prior to focusing on Ankur Capital, Ritu was Director at Truven, a boutique advisory company for venture funds looking at investments in India and SE Asia.

Ms. Ritu also has over 10 years of industry experience working across different functional roles at Philips and Unilever. Ritu serves on the board of CropIn Technologies, PBK Waste Management and ICAAP (IKP Centre for Advancement of Agriculture). She holds an MBA from INSEAD with a focus on entrepreneurship and venture capital and a Ph.D. in physics from the University of Pennsylvania.


3:00 - 3:45
MAKING BUSINESS YOUR BUSINESS
Session Moderator: Mr. Amit Bhatia, Founder & CEO, Impact Investors Council & Chairman, Aspire India
Ms. Ritu Verma, Co-Founder & Managing Director, Ankur Capital
Mr. Sanjib Jha, Chief Executive Officer, IntelleGrow
Ms. Geeta Dutt Goel, Director-Mission Investing, Michael & Susan Dell Foundation
Mr. Aditya Sharma, Director-Investing, Lok Capital