Hotline Nos. Awards: +91 8595350504, Conference: +91 8595350505, Exhibition: +91 9311231351

Indian Education Show 2015
Conference | Awards | Exhibition
July 22 - 23, 2015,
J.W.Marriot, Hotel
New Delhi Aerocity
5th Annual Convention for
Entrepreneurs & Start-ups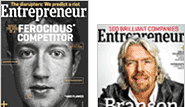 Mr. Harshad Lahoti
Founding Partner & CEO,
ah! Ventures
"Don't go where the path may lead, go instead where there is no path and leave a trail"

Harshad made his beginnings as a Management Executive with Larsen & Toubro, where he was assessed to be a high level performer and selected for their esteemed Management Leadership Program. His passion for finance, however, called him to move on to creating his own investment advisory and wealth management company Intercontinental Investments (2005), followed by Excelman India (2006).

Further, with his interest in investment banking and desire to help early-stage ventures, Harshad founded ah! Ventures (2009) and CLUB ah! network (2012). In the past 10 years, Harshad has grown his ventures into reputed, self-sufficient businesses that fuel their own growth.

Besides his interest in finance & investments, Harshad is also deeply involved as a trustee with the Ajit Lahoti Charitable Foundation, one of Pune's leading charitable institutions helping Chronic Renal Failure patients minimize their hardships by better kidney disease management.

Harshad travels extensively, loves yoga & salsa dancing and lives in Mumbai & Pune.
3:00 - 3:45
MAKING BUSINESS YOUR BUSINESS
Mr. Vikram Upadhyaya, Chief Mentor, Accelerator Evangelist & Angel Investor, GHV Accelerator
Mr. Ajai Chowdhry, Founder, HCL
Mr. Sanjay Nath, Managing Director, Blume Ventures Advisors
Mr. Harshad Lahoti, Founding Partner & CEO, ah! Ventures
Mr. Alok Mittal, Angel Investor