Hotline Nos. Awards: +91 8595350504, Conference: +91 8595350505, Exhibition: +91 9311231351

Indian Education Show 2015
Conference | Awards | Exhibition
July 22 - 23, 2015,
J.W.Marriot, Hotel
New Delhi Aerocity
5th Annual Convention for
Entrepreneurs & Start-ups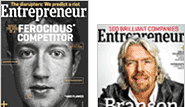 Mr. Dhruv Shringi
Chief Executive Officer & Co-Founder,
Yatra Online Pvt. Ltd.
"In today's era of focus on market share, the new mantra for start-ups seems to be to grow fast or go home!!"

Dhruv Shringi is the Co-founder & CEO of Yatra. In a very short span of time, Dhruv has made his unique identity in the online travel industry by contributing actively in rejuvenating the methods of the industry.

Since its successful launch in January 2006, Dhruv has lead Yatra.com to grow from a 3 member organization to a 2,000+ people strong organization - thus, making Yatra.com the leading travel brand in the country.

In 2011, Dhruv was listed by Fortune magazine amongst the top 40 CEO Under 40 in India. He has also served as the Vice Chairman of the Internet and Mobile Association of India.

His most recent role prior to Yatra.com was as Director Group Operations and Technology of the Ebookers Group in London. Dhruv holds an MBA from INSEAD and is also a qualified Chartered Accountant.
3:00 - 3:45
THE FOUNDER'S DILEMMA: TO RAISE FUNDS NOW OR LATER
Keynote Speaker: Mr. Dhruv Shringi, Chief Executive Officer, Yatra Online Pvt. Ltd.
Session Lead: Mr. Ashish Kashyap, Founder & CEO, ibibo Group
Session Moderator: Mr. Munish Dayal, Senior Partner, Barings Private Equity Partners India
Mr. Karan Mehrotra, Founder & CEO, Localbanya.com
Mr. Pranay Jivrajka, Chief Operating Officer, Olacabs.com
Mr. Kailash Katkar, Chairman & Managing Director, Quick Heal Technologies
Mr. Suraj Saharan, Co-Founder & COO, Delhivery
Mr. Vijay Ghadge, Chief Operating Officer, Go Javas