Hotline Nos. Awards: +91 8595350504, Conference: +91 8595350505, Exhibition: +91 9311231351

Indian Education Show 2015
Conference | Awards | Exhibition
July 22 - 23, 2015,
J.W.Marriot, Hotel
New Delhi Aerocity
5th Annual Convention for
Entrepreneurs & Start-ups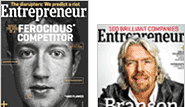 Mr. Rahul Khanna
Managing Partner, Trifecta Capital
"The venture capital market is red hot right now and we're seeing an unprecedented level of investing activity, both at the early stage as well as the late stage. This is leading to some concern around valuations, and entrepreneurs should be prepared for a correction."

Rahul Khanna has 19 years of venture capital investing and operating experience in tech, media and telecom. Having switched from an operating to an investing role in 2005, he has played a key role in the development of the venture ecosystem in India.

Prior to launching his venture, Khanna was MD at Canaan Partners, a $3 billion global venture capital fund. Previously, he was the Founding Director of Clearstone Venture Partners India, where he focused on early stage investments in financial services, mobility and media.

Khanna also served on the boards/invested in successful companies like BillDesk, Games2Win, Equitas, Naaptol, LoyltyRewardz and AdNear. Khanna has start-up experience in Silicon Valley and Hutchison Telecom (Vodafone) across emerging markets. He is an MBA from Kellogg Graduate School of Management.
11:45 - 12:45
THE FOUNDER'S DILEMMA: TO RAISE FUNDS NOW OR LATER
Ms. Nupur Garg, Regional Head-South Asia PE Funds, International Finance Corporation
Mr. Rahul Khanna, Chief Strategy Officer, Trifecta Capital
Mr. Neeraj Gupta, Founder, Meru Cabs
Mr. Miles Frost, Managing Partner, Frost Brooks
Mr. Sandeep Murthy, Partner, Lightbox (VC)
Mr. T C Meenakshisundaram, Founder & Managing Director, IDG Ventures India
Mr. Mahendra Swarup, Managing Director, Avigo Capital Partners