Hotline Nos. Awards: +91 8595350504, Conference: +91 8595350505, Exhibition: +91 9311231351

Indian Education Show 2015
Conference | Awards | Exhibition
July 22 - 23, 2015,
J.W.Marriot, Hotel
New Delhi Aerocity
5th Annual Convention for
Entrepreneurs & Start-ups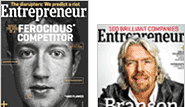 As an early investor in InMobi and InfoEdge, two of India's billion dollar technology unicorns, Mr. Sandeep Murthy is one of the builders of India's Internet economy. And he hasn't just seen the highs and lows play out as an investor, but have actually roughed it out in operational roles including one as the CEO of Cleartrip in 2006 for two years.

Today, Mr. is the Co-founder and Partner at Lightbox, an operation focused venture capital firm that closed its second fund late last year at $100MM.He was a Partner & General Partner at Sherpalo Ventures. He moved to Mumbai in 2005 to lead Sherpalo Ventures.He began his career in investment banking at Credit Suisse First Boston in their Technology Group in California. He serves on the boards of Naukri Internet Services, Cleartrip, PayMate, MapMyIndia, FutureBazaar, ZoomIn, StudyPlaces Kotak Urja, InMobi and GreenDust.

Mr. Murthy holds an M.B.A. from the Wharton School, a B.S. degree in Systems Engineering and an undergraduate degree in Business from the University of Pennsylvania, and a B.E. degree from the Wharton School.
11:45 - 12:45
THE FOUNDER'S DILEMMA: TO RAISE FUNDS NOW OR LATER
Ms. Nupur Garg, Regional Head-South Asia PE Funds, International Finance Corporation
Mr. Rahul Khanna, Chief Strategy Officer, Trifecta Capital
Mr. Neeraj Gupta, Founder, Meru Cabs
Mr. Miles Frost, Managing Partner, Frost Brooks
Mr. Sandeep Murthy, Partner, Lightbox (VC)
Mr. T C Meenakshisundaram, Founder & Managing Director, IDG Ventures India
Mr. Mahendra Swarup, Managing Director, Avigo Capital Partners